||  shows | bio | videos | photos  |  promotion | schedule | education | contact | home
---
Introducing Robert Post
One of Robert Post's childhood report cards in Columbus, Ohio, gave a hint as to how his future might unfold. Not amused by Robert's antics, his teacher created a whole new column of categories describing maladaptive behavior. Happily for audiences around the world, Post stuck with antics. The result: a dazzling performance career that continues to defy categories.
The creator of Post Comedy Theatre and Post from the Road (who did make it through elementary school) discovered the joys of the stage at Ohio State University, where he studied theater and dance before hitting the road with a touring mime and improv troupe. The experience of traveling up and down the East Coast in an old milk truck that served as a tour bus, performing everywhere and anywhere, and passing the hat for payment, not only stretched Post's talents but also developed his knack for playful give-and-take with audiences. He crafted his signature style during intensive workshops with Tony Montanaro, the legendary performer and teacher who ran Celebration Barn in South Paris, Maine. Post credits Montanaro for "flipping the switch," helping him see how he could combine his love of character work, movement arts, and improvisation.
And so th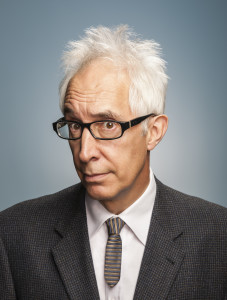 e antics spun on, in a career spanning more than forty years. The sketches that make up Post's one-man variety show – Post Comedy Theatre – have captivated audiences across the United States as well as in Canada, Mexico, Japan, Turkey, and Europe. He has appeared on the Today show, and he was invited to perform for children in Beslan, Russia, at the school that had been devastated by a terrorist attack in 2004. A PBS special on his work, "Robert Post – in Performance," won an Emmy. The list of grants and other awards that he's received is now much longer than his teacher's listing of maladaptive behaviors.
Post juggles – literally (he can keep the balls in the air) and figuratively, balancing his performance schedule with educational programs in schools, master classes, workshops, and stints as a director. He has directed for opera and ballet companies as well as for schools and universities. He has also served as a visionary coach and mentor for individual performers, much as Tony Montanaro helped him find his own vision. His wide-ranging travels have led to Post from the Road, a delightfully quirky video series featuring his encounters with – and bemused observations on – the weird and wonderful byways of American culture.
Fun Facts:
POST the Caddy Robert's career as a performing artist would never have happened if he had been successful at his first love, golf. But — being half Italian— he struggled with his temper as a player. He did enjoy success as a caddy and carried the bags of some of the greatest players of all time including Byron Nelson, Tom Weiskoff, Lanny Watkins, Judy Rankin, and Chi Chi Rodriguez.
TALL At 6′ 3″ Post views the world from a skewed perspective in many ways including his height. According to Malcolm Gladwell in Blink "…in the general American population, 3.9 percent of adult men are 6'2″ or taller."
& Robert's first review at the age of 4
Teddy Bear Ranch Nursery School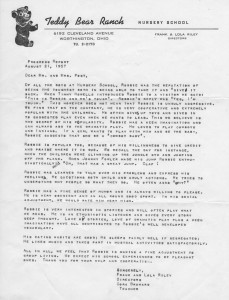 , August 21, 1957
Dear Mr. and Mrs. Post,
Of all the boys at Nursery School, Robbie has the reputation of being the toughest both in being able to take it and give it back. When Timmy Howells introduced Robbie to a visitor he said: "This is Robbie and he's tough". Robbie's reply was "Yes, I'm tough." This however does not mean that Robbie is unduly aggressive. We find that on the contrary, he is very cooperative and extremely popular with the children. He often gives up toys and gives in to suggested play even when he wants to lead. This we believe is the secret of his popularity.
Robbie has a keen imagination and can always add to the dramatic play. He loves to play Cowboys and Indians. If a girl wants to play with him and be the baby, Robbie suggests that she be a "cowboy baby". Robbie, is popular too, because of his willingness to give credit and praise where it is due. We recall the day for instance, when the children were climbing up the jungle gym and jumping off the plank.
When Johnny Fowler made his jump Robbie enthusiastically said, "Oh, that was a great jump. Clap!" Robbie has learned to talk over his problems and express his feelings. He questions both child and adult actions. He tries to understand why people do what they do. He often asks "Why?"
Robbie has a fine sense of humor and is always willing to please. He is very obedient and an all round good sport. In his social adjustment, we would rate him very high. Robbie is very interested in stories and will often play what we read. He is an enthusiastic listener and gives every story deep thought. Love of stories, love of dramatic play plus a keen imagination have all contributed to Robbie's well developed vocabulary.His eating habits are good; he sleeps fairly well if segregated; he likes music and takes part in musical activities satisfactorily. All in all, we feel that Robbie is making a fine adjustment to group living. We expect his school experiences to be pleasant ones. Thank you for your help and cooperation.
Sincerely,
Frank and Lola Riley, Directors