||  shows | bio | videos | photos  |  promotion | schedule | education | contact | home
---
POST Comedy Theatre Repertoire
One Hour and 40 Minutes with 15-minute intermission
The show content is suitable for families but because of the length of show, and the material, we suggest bringing children ages 8 and up.
Odds and Ends – A fast-paced introduction of Post's unique style. His fingers take on a life of their own and become an Olympic diver or an uncontrollable toupee that won't stay on his head. His nose comes right off for a quick cleaning, two arms form a giant mouth and a football play is rewound from every angle at an impossible speed. This seven-minute opening is a physical free-association to challenge and expand the imaginations of the audience members. 
---
A Rather Unfortunate Evening for Burglar Burt Robert Post is a one-man band portraying the hapless Burglar Burt while manufacturing the squeaks, growls, snores and klunks that plague the last job he'll ever do in this tribute to the comedic genius of Sid Caesar.

Tango
Post invites a pair of red long johns on the dance floor for a "steamy" tango. In the resulting tangle of arms and legs it's difficult to tell who's leading whom.

Spiked!
"… as American as cell phones, fax machines and bottom lines. Post's harried office worker, whose life is governed by gadgets, will never catch up. The use of sound effects in this work is completely ingenious."

Ace Wingspan
Ace Wingspan is the fearless stunt pilot who takes us on an aerial joyride, astonishing the crowd with high-flying tumbles and heart-stopping dives. Post makes us see a movie in our minds. With his rubbery body, he recreates the magic and excitement of film's long-shot and close-up techniques. His arm becomes the plane's propeller and his fingers portray the pilot walking on the wings of the plane. This zany physical cartoon is accompanied by Post's cacophony of mouth sounds worthy of a Loony Toons sound track.

Beyond the Wall (A Mystery)
This six-character, quick-change spoof of a murder mystery, is performed behind and around a narrow black wall that is transformed into a variety of sets including an automobile, a castle door and bathtub. With a change of a hat, wig or impeccable dialect, Post switches at lightning speed between Inspector Wesley Bloom, from Scotland Yard to Tilson, a surly, gnarled, cockney butler to Nicole, the scheming French "beauty" to Fritz Hinkle, her pompous German husband to Lady McNaughton, very British, very intoxicated and remarkably casual about her husband's death, and, finally, to Lord McNaughton, the Scottish stuffed corpse.

Post Child
A dad driving home with his son after a performance? A performer reassuring his "inner child" as he struggles to stay awake? Post performs an enchanting duet with a puppet–a third grade version of Post–created by Henson artist Matthew Brooks.

Shticks They're just three sticks: about three feet long with red tips. But in Robert Post's hands, they're magic, pirouetting through the air in exact and almost mathematical patterns. Suddenly, they're not just pieces of wood. One snakes through the air as a cobra. One leaves home to join the circus as a trapeze. Soon, they all conspire to make a movie, simultaneously starring as cowboys, Indians, horses and speeding bullets.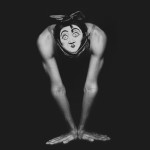 Ballet 101
In this hilarious parody of classical ballet training, Post depicts the character of Marcia, an extraordinarily gifted adolescent ballerina. She is created with an expressionless mask set on the top of Post's head. Kneeling on the floor he transforms his arms and hands into Marcia's legs and feet, enabling her contortionist display. The class builds to an absurd climax as the, masked-faced prodigy literally flies out of the dance studio.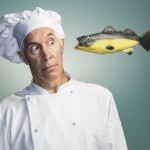 Pasquale's Kitchen
A wacky TV chef whips up a culinary feast of juggling, visual gags, dialects, jokes, magic and rhythm. He serves up his special cooking secret, "let the cook inside you guide you." While demonstrating French, Australian, Russian, and British specialties, Pasquale–like a method actor–totally immerses himself in the character. He battles an uncooperative seafood dish, creates quick bread like you've never seen, shakes a cow to make his own butter, and creates a new dimension of "natural food."